Password breaches happen millions of times a year to users worldwide. Some hacks result from attacks on corporate databases, but on the other hand, many are personal. Which means they are also hacking the data of individuals. Unfortunately, the personal attacks are usually our own fault. Because we may use very weak passwords, providing personal information on phishing sites, use cracked apps and software, etc.
We looked at more than a dozen password managers for this review. At the top of our list were the most widely used and trusted providers without significant security issues. Ease of use was also important, as was the ability to share data across multiple devices and platforms.
Creating and maintaining complex passwords or passwords can be a headache. If a password is too difficult to remember, we are more likely to write it down on a piece of paper somewhere. That is not secure. However, the temptation to simplify complex passwords is even more insecure.
In this case, you can try using password managers.
What is a Password Manager?
Password Manager is a program that allows you to generate and store all your passwords in a secure environment. Most of them will enable you to retain credit card details and secure notes. For added security and convenience, password managers also support using biometric data (fingerprints or faces) instead of your master password. You can also share selected information with your family and friends without copying and pasting it into an email or instant message.
Password managers exist as android/iOS apps or desktop applications or as a browser extension that automatically fills in the username and password for the saved sites. Almost every password manager uses two-factor authentication, which requires users to verify their login using different methods: a master password, a code generated by the authentication app, or a code sent to the device.
If that sounds like a solution that can make your life easier and more secure, you're in the right place. Because some password managers are free, this doesn't mean they aren't severe, safe products.
So, let's dive in.
1. LastPass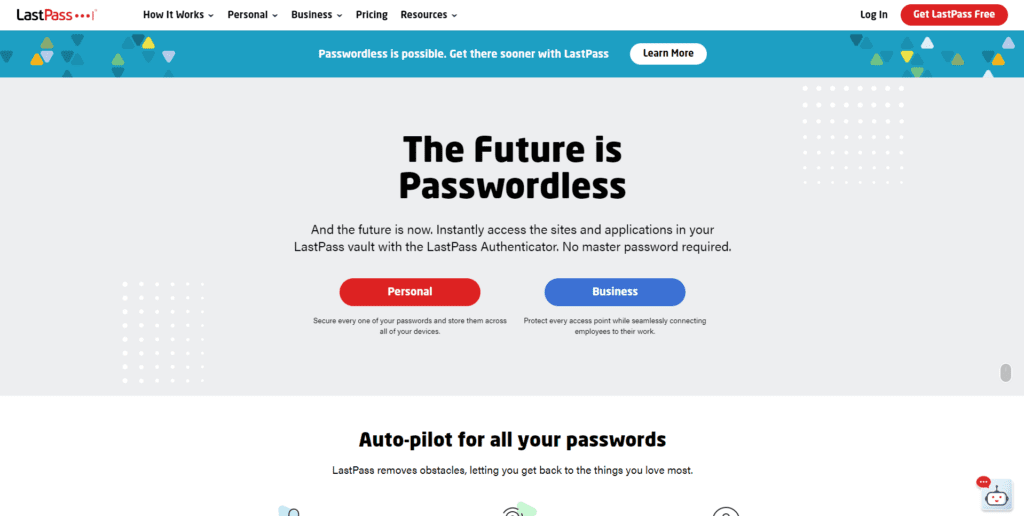 This list is by no means the best, to the least, but I will keep LastPass as the best free password manager app. An excellent free password manager that provides all the features you will need.
The LastPass free plan offers unlimited passwords, multiple device synchronization, one-to-one encrypted password and information sharing, and a digital wallet that automatically stores and fills in credit card information. All of this makes it a solid choice and our choice as the best password manager.
LastPass is a browser-based password manager that works with many browsers like Chrome, Safari, Firefox, Edge, Opera, etc. LastPass is also available for Android, IOS, Windows and Mac. It uses industry-standard AES 256-bit encryption and offers multi-factor authentication (MFA), letting users access their accounts using a smartphone or fingerprint.
LastPass Pricing:
Free Personal Plan available
Premium Plan available for $3 per month
Family Plan available for $4 per month
Teams and Business Plans available for $4 and $6 per month per user
2. Keeper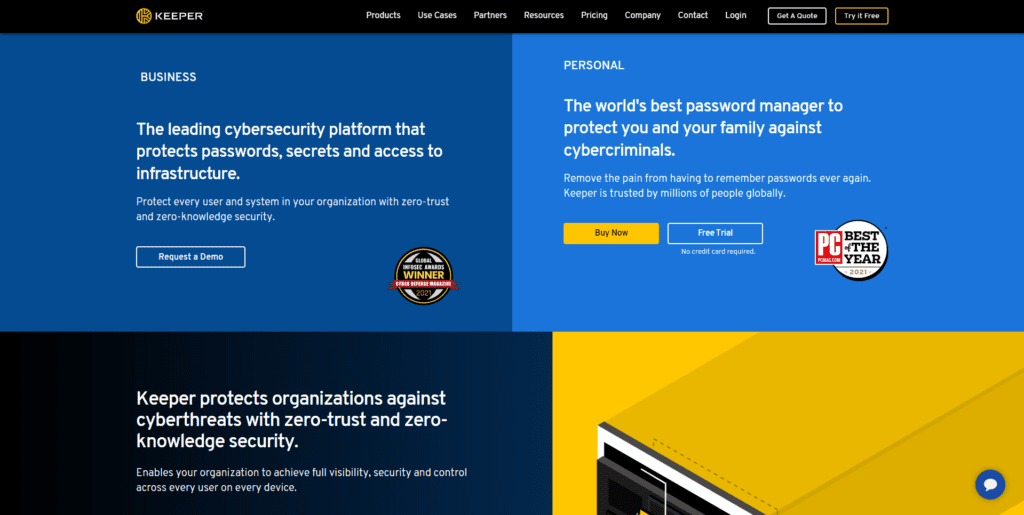 Keeper is an intuitive password manager with the highest level of security – 256-bit AES encryption, a zero-knowledge policy, and a wide variety of multi-factor authentication options, including basic ones like compatibility with 2FA applications like Google Authenticator and advanced such as face recognition and fingerprints on mobile devices.
Keeper is marketed to business users but offers a personal plan as well. The ability to quickly sync all mobile devices and your computer is essential, and Keeper does it well. Keeper may not be the first on this list, but it's among the top-rated password managers for a good reason.
Keeper doesn't offer free plans, but a 14-day free trial is available for its business level service. Users can also pay for add-ons, such as an encrypted chat messenger, advanced reporting and alerts, dedicated onboarding and training, dark web, and security breach monitoring.
Keeper Pricing:
Personal Plan starts at $2.91 per month
Family Plan starts at $6.24 per month
Business Plan starts at $3.75 per month per user
Enterprise Plans are available with features like SSO
3. Dashlane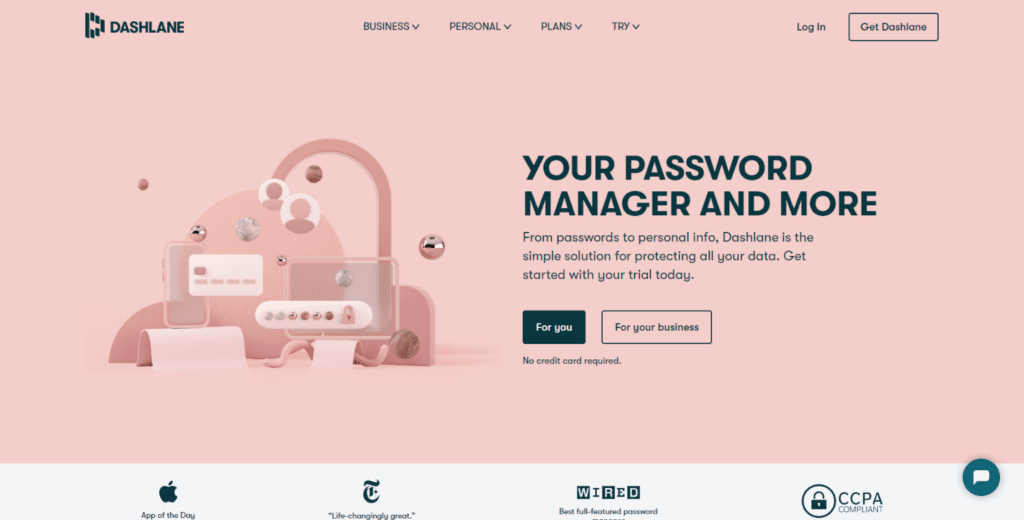 Dashlane is the best for extra security features because it offers dark web scanning for data leaks, a secure VPN, and a password-changing option. It features a friendly interface and several security extras that some other password managers don't offer. However, it can be a bit complicated for users new to password managers.
Dashlane has a good free plan. While it only provides storage for 50 passwords on one device, it comes with more security features than most brands offer in their premium packages. One excellent feature we liked about Dashlane that few other services offer is a password changer that replaces hundreds of passwords with a single click. Dashlane is available as a browser extension and also available for Android and iOS.
Dashlane Pricing:
Free Personal Plan available
Premium Plan available for $3.99 per month
Family Plan available for $5.99
Team and Business Plans are available for $5 and $8 per month per user
4. RoboForm
RoboForm is one of the best-value password managers out there. RoboForm's free plan includes form filling, password strength auditing, and storage of secure bookmarks. RoboForm automatically captures and stores passwords and has a security centre to help you monitor your online safety. It also saves notes and contacts. That may not be at the top of your list of features that you want, but you will use them more often than you think.
With RoboForm, you can create multiple "Identities" for web forms, with eight categories of information, such as passport, credit card, and vehicle info. It also comes with face and fingerprint recognition, manages non-website application passwords option, and import option. RoboForm is available on most browsers as an extension, and Windows, Mac, Android, and iOS.
RoboForm Pricing:
Free Personal Plan available
Everywhere Plan is available for $23.88 per year
Family Plan is available for $47.75 per year
Business Plan starts at $39.95 per year per user
5. LogMeOnce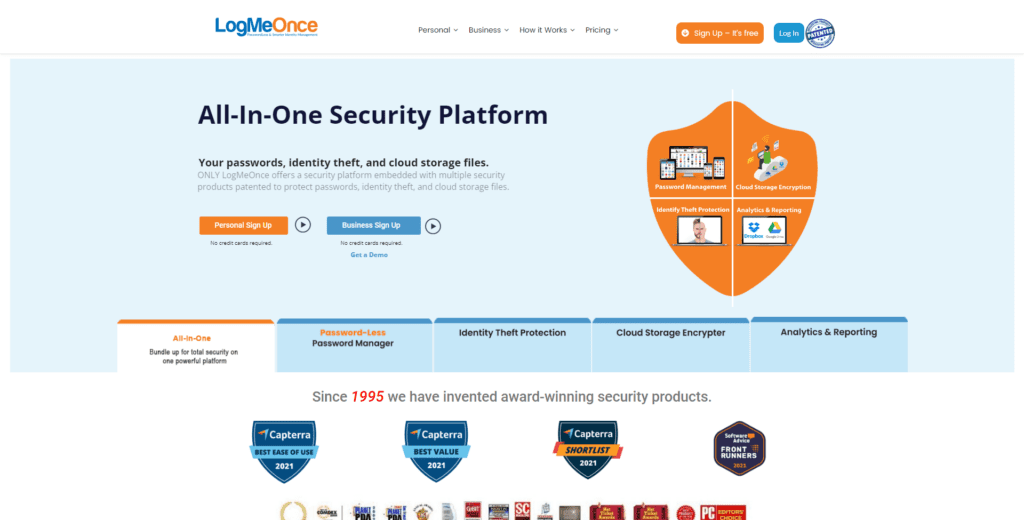 LogMeOnce boasts an impressive list of over 50 features, many of which are unique to their platform and allow for deep customization. LogMeOnce uses a unique photo-based password-less login system. That means you can use a selfie instead of a password. The picture doesn't have to be your face; it can be anything. Users can get a customizable dashboard, a snapshot of anyone who tries to hack their account or device, scheduled logins, photo logins, and more.
Like other Password Managers, LogMeOnce also works with most browsers and is available on Android, iOS, Windows, and Mac. It's an intriguing alternative to the usual password generation tool.
LogMeOnce Pricing:
Free Personal Plan is available
Professional Plan is available for $2.50 per month
Ultimate Plan is available for $3.25 per month
Family Plan is available for $4.99 per month
Team, Business, and Enterprise Plans start at $3 per month per user
Final Thoughts
The best way to keep yourself secure online is to have a unique password for each login account you manage (For example, you have to use different passwords for different websites). That unique password should be a long passphrase or a random string of letters, numbers, and special characters.
Most Password Managers offer a free plan. And take a look at the free password managers listed above and try some of them. In short, find one that's right for you. Many other Password Managers are also available, such as NordPass, 1Password, Password Boss, ZohoVault, etc.
As we discussed in this post, there is a wide range of quality options to choose from. The best one to use depends on your budget, experience level, and what specific features and functionality you're looking for.